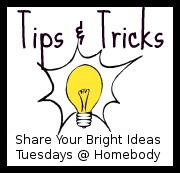 You all know that I love to hit the thrift stores, for everything from clothing to household goods to decorating stuff. But when those clothes have been grown out of, or I decide to change my decorating, I also donate to the thrift stores.
Make donating easier by keeping a clean trash can or box in the garage, lined with a trash bag. As you come across an item to donate, toss it in. When the bag is getting full, transfer it to your car and drop it off at the nearest thrift store next time you're out.
Got any favorite products, gadgets, recipes, shortcuts, or other tips? Link them up here!
share a tip that makes your life easier
please link back to me in your post
link to your specific party post, and not your general home page
please be polite and visit several other participants and leave a nice comment
I reserve the right to delete entries that don't link back to me or do not fit the party theme
Linky will close at 11:59 pm central Tuesday.

**Sorry, everybody...there were some issues with the thumbnail list, so I closed that one to new entries and opened a basic list.