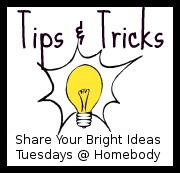 So, last month I told you about rinsing your cooked ground beef to lower the fat. But what about something like meatloaf, that can't be rinsed?
Well, I've got a trick for that too.
I do buy leaner (90/10) ground beef when I'm going to make meatloaf, but that's still 10% fat.
I line the pan with foil, and then I scrunch up another piece of foil and set it in the bottom of the pan.
After I form the meatloaf, I set it on top of the scrunched foil.
As the meatloaf bakes, a lot of the fat drains off into the scrunched foil, while the meatloaf sits above it on top.
I then just lift off the meatloaf onto a serving plate, and discard the greasy foil.
Got any favorite products, gadgets, recipes, shortcuts, or other tips?
Link them up here!
share a tip that makes your life easier
you must link back to me in your post
link to your specific party post, and not your general home page
please be polite and visit several other participants and leave a nice comment
I reserve the right to delete entries that don't link back to me or do not fit the party theme
Linky will close at 11:59 pm central Tuesday.
Linkytools has a new feature that I'm trying out: it will not
allow you to add your link unless my link is in your post.
Please copy and paste the following.