Win super cool photography from my newest sponsor!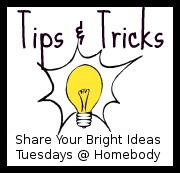 My kids' jeans and other pants often end up with holes in the knees. Or sometimes they get too short before the waist gets too small. When this happens, they aren't fit either to donate (in the case of holes) or to wear in public, IMO. Rather than turn them into rags, I get more use out of them by cutting the legs off and making shorts.
Sometimes I hem them, but most of the time I don't bother. The cut-offs then become play wear. If the kids want to play outside in the creek, this is what they wear. When they go to church camp for a week in the summer, this is what we pack. They get to be kids, and I don't care if the cut-offs get muddy, wet, or torn. It keeps us all happy!
Got any favorite products, gadgets, or other tips? Link them up here!
share a tip that makes your life easier
you must link back to me in your post
link to your specific party post, and not your general home page
please be polite and visit several other participants and leave a nice comment
I reserve the right to delete entries that don't link back to me or do not fit the party theme
Linky will close at 11:59 pm central Tuesday.