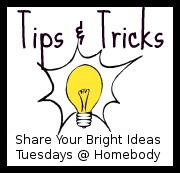 You know those nights when you need to get something on the table quickly, but you didn't plan ahead or just plain don't feel like cooking? One of my go-to meals for those kind of nights is taco meat. It's fast, easy, inexpensive, if necessary it can go from freezer to table in a matter of minutes, it's kid friendly, and it's very versatile.
Tacos aren't the only way to use it. If you have tortillas, make burritos or quesadillas. If you've got tortilla chips, serve nachos. If you've got lettuce, make taco salad. If you have refrigerated biscuits, press each biscuit into a muffin tin, fill each with taco meat, top with cheese, and bake to make taco cups. Use any combination of toppings you like for any of these options.
As I mentioned last week, I rinse my cooked ground beef to reduce the greasy factor. Another trick I have when making taco meat is to use about 1/2 pound of beef and add a can of black beans; it reduces the fat further and costs less than using a full pound of beef.
I keep packets of McCormick taco seasoning on hand (contains no added MSG), but if you're in a pinch you can look online for homemade taco seasoning, such as this one from allrecipes. I personally haven't found one that I like as well as the commercial packets, but they work when needed.
Got any favorite products, gadgets, or other tips? Link them up here!
share a tip that makes your life easier
you must link back to me in your post
link to your specific party post, and not your general home page
please be polite and visit several other participants and leave a nice comment
I reserve the right to delete entries that don't link back to me or do not fit the party theme
Linky will close at 11:59 pm central Tuesday.