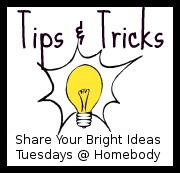 I am not blessed with shapely eyebrows. Left to their own devices, they are somewhat thick and straight across. Not unlike Brooke Shield's famous brows, but I'm not getting any super model contracts. For years I didn't even tweeze them; I found it too painful. But I'm over that, and I do my best to keep them groomed now, although I'm still not brave enough to have them waxed or threaded.
I can't believe I'm showing you this, but here's a side-by-side comparison, ten years ago on the left (scary!), and more recently on the right. The one on the right isn't perfect by any means, but certainly it's an improvement.
However, even thinned out, they are archless. Brushing them up gives them a more pleasing shape, but it doesn't stay put.
Now I use Maybelline's Clear Mascara to hold them in place.
Love this stuff! It does a good job of keeping my brows tamed, shaped, and in place. Plus it's under $5, well within the budget.
Got any favorite products, gadgets, or other tips? Link them up here! The post can be old or new (just please add my link if it's an old one).
share a tip that makes your life easier
you must link back to me in your post
link to your specific party post, and not your general home page
please be polite and visit several other participants and leave a nice comment
I reserve the right to delete entries that don't link back to me or do not fit the party theme